TENRAKU -Deluxe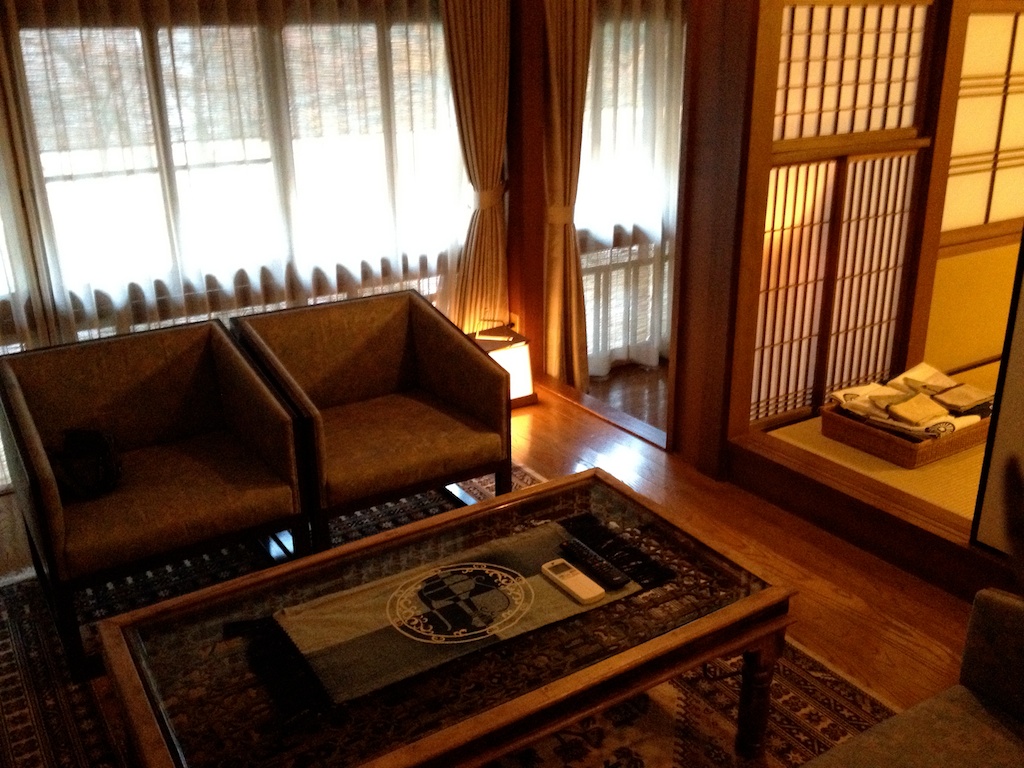 Located in the ryokan's most historic sections " The Cloud-capped mountains UNZAN GOBO" and "The sound of water trickles CHOSUI GOBO" , where Tousen Goshoboh has been relocated during the 3rd year of Bunroku era (1594) by Lord Toyotomi Hideyoshi. The 8 Deluxe rooms have been slightly renovated, however, they still keep the genuine delicacy of the Showa Shoki era ( early 1920s). Each room exhibits works of a novelist or poet who had loved Goshoboh. For instance, handwritten letters and books of the novelist Tanizaki Jun Ichiro, who was a fan of the inn and has mentioned it in his novel "A Cat, A Man, and Two Women". Poems by the historian novelist, Yoshikawa Eiji, who described the beautiful sound of water trickles heard from the window of one Goshoboh rooms in the 2nd floor. And writings by the samurai and four times Japan's prime minister, Ito Hirobumi, who also admired Goshoboh and left some of his works which are displayed in the room.
Each of the TENRAKU Deluxe suite-room is composed of two blended parts of Japanese Tatami and modern living room. It includes a futon style bedroom, a living room, and a unit bathroom.
The Deluxe stay plan offers an exclusive access to the private zone "SHIHOAN" with its Tea Ceremony room, zen Garden, and open-air Bath. Please make a reservation for this private zone upon your arrival at the reception desk.
Size
70m2
Capacity
Maximum 3 – 5 guests
Check-in/out time
Check-in : 3:00 p.m and Check-out: 11:00 a.m
Guests can leave their luggage at the reception desk in case they arrive earlier.
Late check-out can be possible depending on room vacancy, and is charged JPY2,500 per room per hour. Please tell us in advance.
Room facilities & Amenities
Traditional Japanese style bedroom with Tatami (woven-straw) flooring, Shoji paper screens, futon beds
En-suite unit bathroom
Seating Area
Free Wireless Internet connection in the lobby
Safety Deposit Box, Air Conditioning, Telephone, DVD Player, Flat-screen TV, Tea/Coffee Maker, Minibar, Refrigerator, Electric Kettle, Alarm Clock, Hairdryer, Free selected toiletries ( Shower capp, cleansing foam, cotton swab, cotton, sticking plaster, mouthwash, hair dryer, comb, oil bloating paper, face milky lotion, towel, large bath towel, yukata (informal cotton kimono), Tanzan ( large padded kimono).